p>
?In special memory of:
Two precious women who loved God, family,
their church and Rural Mission

The late Mrs. Dorothy Eason and the late Mrs. Ruth ?Tootsie? Bligen had much in common.? My focus now is their relationship in servanthood.
Mrs. Eason was a local Charleston woman who served on the board of Rural Mission during its very early years, when it was not popular to come from Charleston to help migrant farm workers and their children while they came to work on the farms. These migrant families had many human problems that required attention. There were no government funds available to provide services. So along with the late Rev. Willis Goodwin and the late Mrs. Marybelle Howe, Mrs. Eason became a strong advocate to change the plight of the farm workers.? She searched diligently in Charleston churches to find help through Church Women United and the United Methodist Women (another organization where she gave her life in service).? She was extremely active and would not accept ?no? from people whom she knew had the capacity to give.
A blessed Christian woman who believed in being her brother's keeper and taking care of her neighbors wherever they lived, Mrs. Eason died last week at 89 years of age. Her memorial service was held at the church she loved dearly: St. Mark United Methodist Church, West Ashley, Charleston.? (She was originally a member of Trinity UMC, downtown Charleston.)
Mrs. Ruth (affectionately called ?Tootsie?) was a member of the RMI Prayer Warriors, the Moving Star Hall Singers and other groups, especially the ushers association. She gave her services through prayers, singing and holy "dancing.?? Tootsie was born and reared on Johns Island.? She worked extremely hard for one family for more than 40 years, taking care of their children and hers at the same time.? She loved to cook and feed people, especially her neighbors.? And she loved to come to Rural Mission, sometimes catching a ride so she could entertain the? workcamp volunteers who came to give of their services to Sea Island families.? The young people loved to hear her sing, and she would dance with them during Rural Mission?s seafood jamborees. Her contributions made people happy when they were sad; she displayed so much love and taught people how to keep the faith and wait on the Lord, even when it was difficult.
Tootsie died and was buried last Thursday at the church she loved with her whole being: Wesley UMC, Johns Island.? She was 83 years old.? Her daughter, Doris Sease, has been a cook at Rural Mission for the past 28 years.? Her mother passed down her gift of cooking to our Doris.
We ask your prayers for these two families as they continue the legacy of their mothers.? I praise the Lord to have known both of these God-fearing women and to have been able to work with them as they served so well.

Linda D. Gadson
Executive Director
Rural Mission, inc.
(843) 768-1720 (office)
Easter Lily Donation Drive
Rural Mission has served for 42 years to give families and residents a new start in life. Easter is a time when we dedicate ourselves to a new start, a renewal of faith and purpose.
The convenience and security of FirstGiving provides this opportunity to donate and follow our progress as others give.
Please support the outreach ministry of the Rural Mission through a donation of $10 or more to purchase a virtual Easter Lily in honor or memory of someone special in your life.? Your online donation will go to help bring a better way of life and a secure home to a needy family and their children or to an elderly resident.
You can also respond through our website at www.ruralmission.org or by calling the Rural Mission at: 843-768-1720

We have already raised over 70% of our goal – Thank you!
Three Current Projects
Through our monthly Rural Mission Newsletter we will be updating you on the

progress being made on these three important projects. Please join in, we

need your help and donations. Many others homes are in immediate need of emergency and necessary repairs in addition to these three that are being highlighted. You can help by volunteering or by making a donation to complete these home repairs and renovations.? Please get involved!
?
Mr. Kirk Moriera, Dunwell Rd., Wadmalaw Island
Mr. Kirk Moriera has lived in this very old two room cottage without a bathroom
or kitchen. The home needs a great deal of work inside, as well as window and door replacement. Our volunteers have built a new addition on the rear with a bathroom, kitchen and small dining area. A new well pump and housing have been completed. The home still needs a lot of interior and ceiling work as well as new windows. The kitchen/bath addition needs floor covering, counter tops and kitchen and bath fixtures.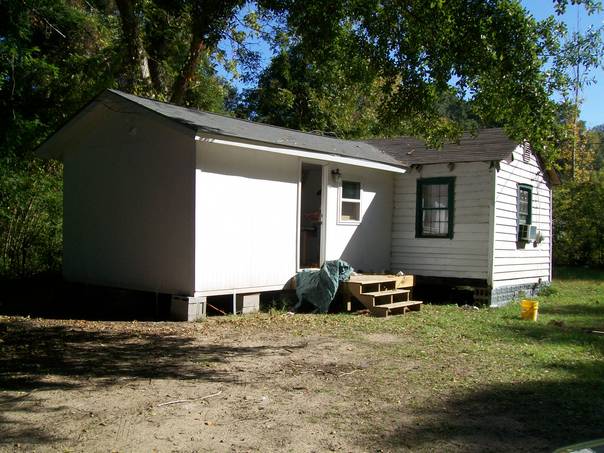 Renovating and improving this small cottage will give comfort
and safety to this elderly gentleman.
We're 3/4 of the way there!? Help us finish Mr. Moriera's home!
---
Mrs. Clara Ramsey, Ferguson Rd., James Island
A lot of progress was made in restoring this home during the month of March. Thank you to these great workteams. The front porch replacement and ramp are nearly complete. One bedroom with collapsed floors now has all new floor joists and flooring. This room needs painting and floor covering. Exterior siding replacement continues. Much work also needs be completed on some of her neighbors? homes which we have also started. Please help.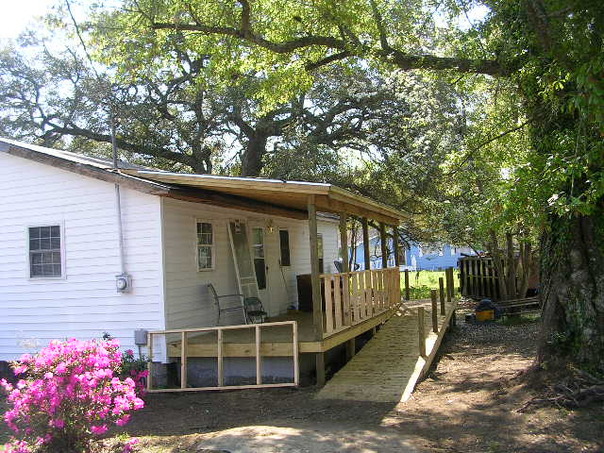 Mrs. Ramsey's new front porch and ramp.
Great progress in March!? Help us put the finishing touches on
---
Mrs. Nellie Boykin, Sadie Lane, Wadmalaw Island
Volunteer teams have made remarkable progress on the expansion of this small home for this big family. In three weeks in March, the foundation was completed, the addition fully framed and sided and the roof constructed and shingled. Much remains to complete this addition and repair and rehab that is needed throughout this old home, including all new plumbing and electrical wiring and a new septic tank system.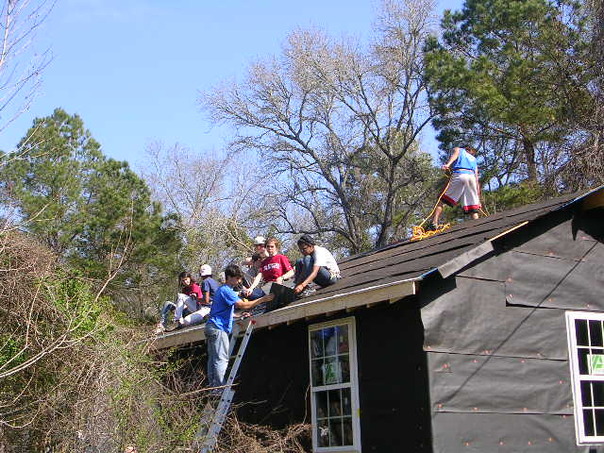 Volunteers working on the new roof!
?

Help us bring Mrs. Boykin and family the space they need!
?
?Jesse's Story
Jesse is a student at Virginia Tech Univ., a leader with the Baptist Collegiate Ministries of Virgina Tech,
and a former youth mission volunteer from First Broad Street UMC in Kingsport, Tenn
?"I was participating in missions well before I even really knew Christ – in fact, well before I even realized that I *didn't* know Christ. Looking back I realize that God uses each one of us in whatever spiritual state we may currently be in. For even while I was wandering about in the darkness, I was still being used by God in his greater purpose. From that personal experience I know beyond a doubt that God has
a plan and is in control. How could he not be if I was still a part of God's plan and was still being used to further the kingdom even when I was an unbeliever…."
Rural Mission Reflections
Abraham ?Bill? Jenkins, Sr.
?
Abraham ?Bill? Jenkins, a Johns Island native
and eldest son of the Civil Rights icon,
the legendary Esau Jenkins, served twenty years in the United States Air Force retiring as a Major in 1971.
Immediately following his retirement, Bill Jenkins was hired by Rural Mission as one of its first employees to be the Community Coordinator for Health Care on the Sea Islands.
A year later in 1972, the Sea Island Comprehensive Health Care Corporation was formulated, from which Mr. Jenkins retired in 1992 after twenty years of service as its Administrator…

?Welcome to Our Volunteer Teams in April
We Are Very Thankful to Be So Busy!
?
Our volunteer season is in full swing with old friends renewing friendships from groups that have been coming from distant states for many years. We are overjoyed and grateful to have them return and bless families in need. We also have some new teams joining with us. The following teams are assisting low income families and elderly residents with badly needed repairs and renovations. We pray for their safe travels and for a productive and fulfilling mission experience here on the islands.
Please help us to welcome and thank these volunteers while they are with us.
April 1-6, United Church of Gainesville, Gainesville, FL
April 14-16, South Church in Andover, Andover, MA
April 21-28, Tri-State Mission Team, Saco, MI and other states
Thank You!

?New Grant Awards Appreciated
?
The Rural Mission is grateful for the following supporting grants, donations and in-kind services given during the month of March.
The Rite Aid Foundation
The Joanna Foundation of South Carolina
Realtor's Housing Opportunities Fund?Coastal Community Foundation
South Carolina United Methodist Women
?

?Board of Directors News
?
The Board and staff of Rural Mission welcome to the Board Mrs. Carol Etheridge. Carol is a resident and native of the Hollywood area. She is Human Resources Manager with Orient Express Hotels, including Charleston Place Hotel in Charleston.
Appreciation and best wishes are expressed to Robert Vingi, Jr. who has left the Board. He worked hard to broaden our relationships within the Charleston community.

January Through March has Been Busy!
Looking back over the first three months of 2012 ? we have been busy! Over 300 youth and adult volunteers have experienced faith-filled mission projects among very needy families. A total of 19 volunteer teams have served, some local, but most have traveled a long distance- including PA, RI, NC, MA, VA, AR and IL. At the end of March, a total of 34 homes have been improved or are still in the process of being repaired and made safe.
Thank you to all who have helped ? and thank you to our staff!
3,954
= The number of miles our volunteers have traveled this year (one way!)
?
Volunteers Appreciate Gullah Culture and Song!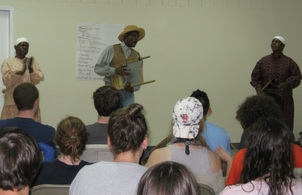 The Gullah Singers from Wadmalaw
Island, lead by Mrs. Sharon Cooper Murray, thrilled and entertained these young volunteers from Andover, MA at a recent Seafood Jamboree

Trident Realtors Association Making a Difference!
Our special thanks go to the members of the Trident Realtors Association for making a
difference in providing decent homes to low income families and elderly residents. The Rural Mission has again received a generous RHOF grant from the Association to repair low income homes. RHOF stands for Realtors Housing Opportunities Fund, administered with the help of the Coastal Community Foundation. Association members are also giving of themselves to further this cause and commitment. On March 29, Association members and leaders gathered at the home of Mrs. Clara Ramsey on James Island with Rural Mission staff to present this needed grant check and to volunteer their day to help repair this older home which is in poor condition. Members worked on the roof, flooring and new porch addition. We hope to host other Association members in the future in seeking to step forward to improve their community.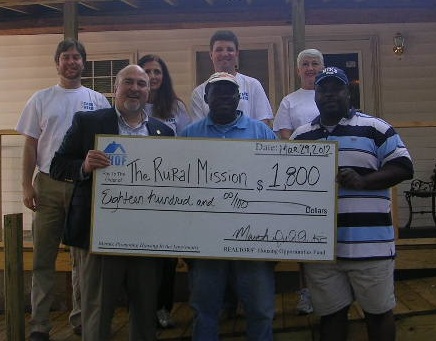 Please contact the Association and/or the Rural Mission if you wish to get involved.
Learn more through the Assoication
Website

How to Become a Rural Mission Cornerstone Pledge Donor!
Partnering to Address Hunger on the Islands!
Our Newsletter Survey – Your chance to tell us what you really want!
???? Contact Information: 3429 Camp Care Road, Johns Island SC 29468 | 843.768.1720
---
If you no longer wish to receive this newsletter, please reply to this message with "Unsubscribe" in the subject line or simply click on the following link:? Unsubscribe
????????????????? Rural Mission, Inc.
3429 Camp Care Road
John's Island, South Carolina 29457
USRead the VerticalResponse marketing policy.